Version - 8 JUNE 2023
General: Get Started – New UI & Sign-in Method
New UI
Removed LinkedIn option due to reliability issue
Added phone number as an alternative option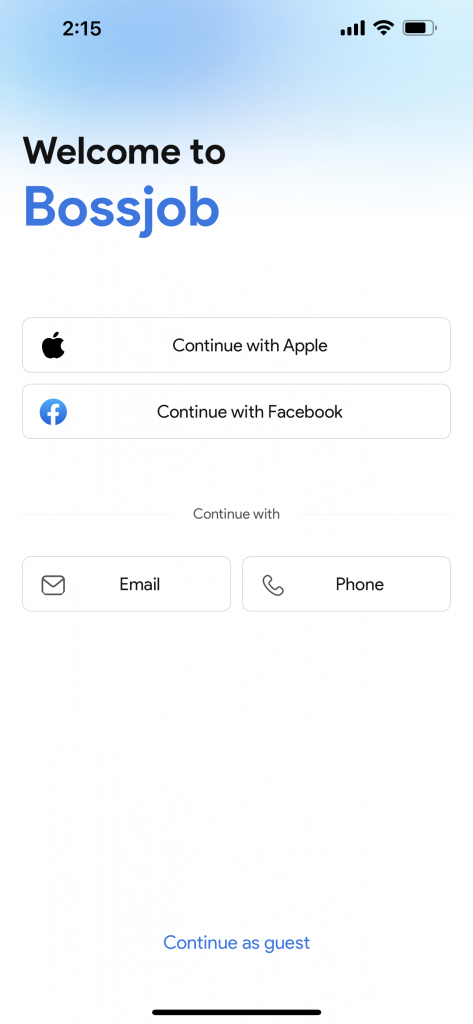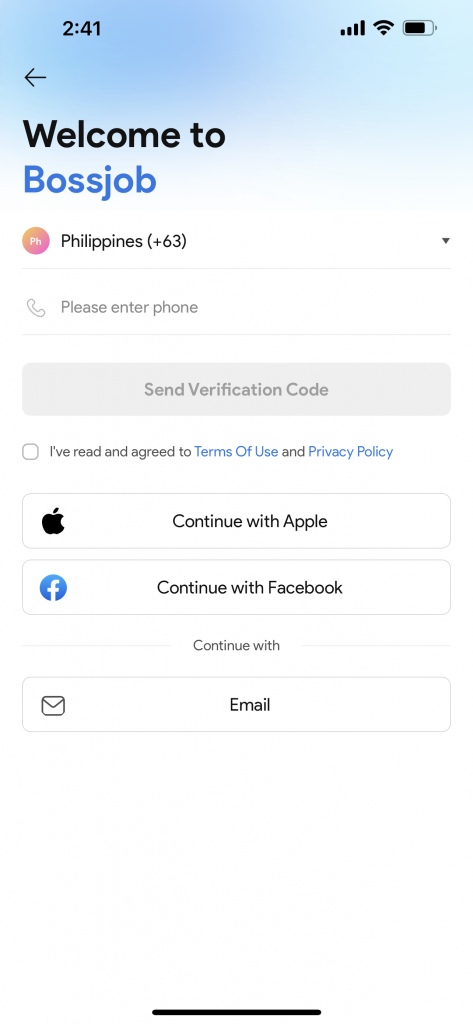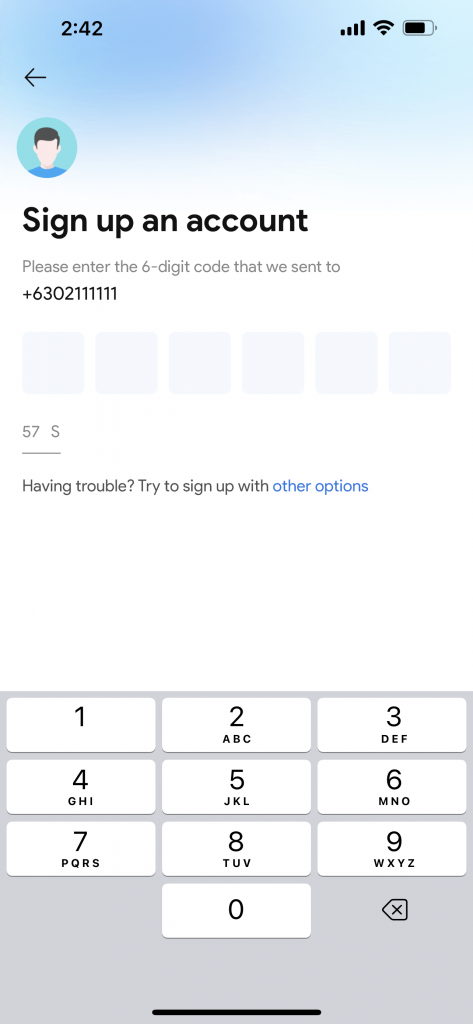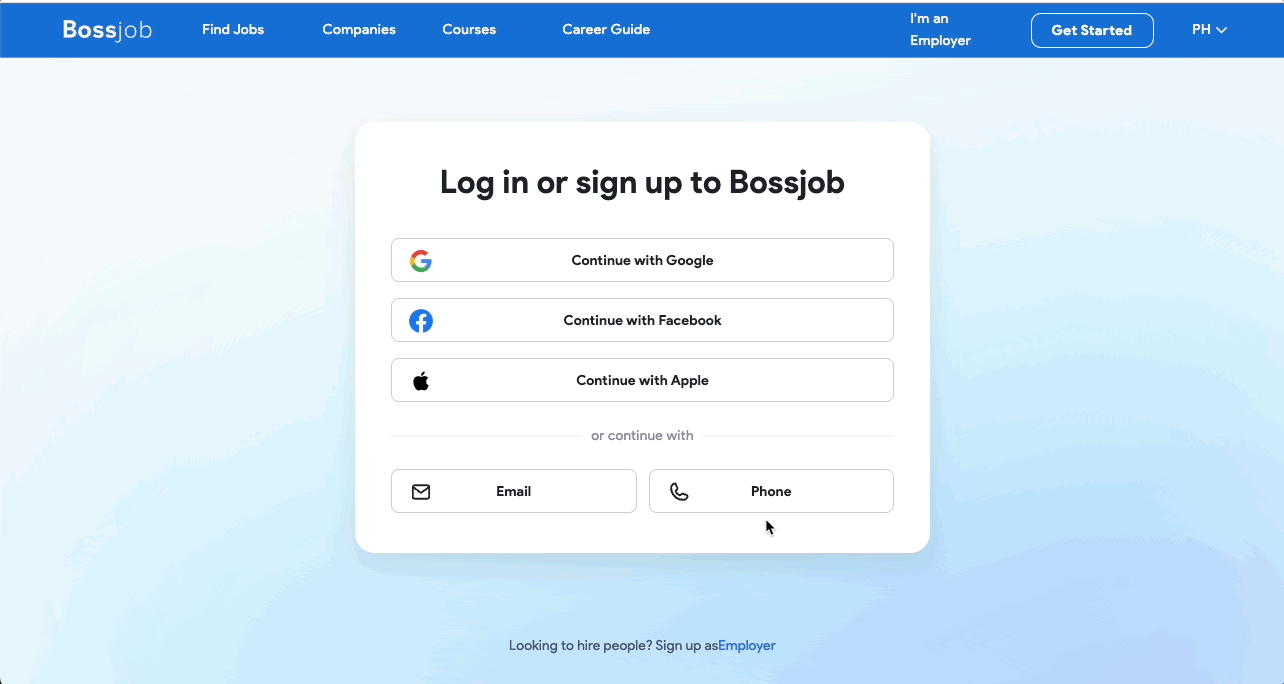 Premium account users can set up auto-response for new greetings coming from talents.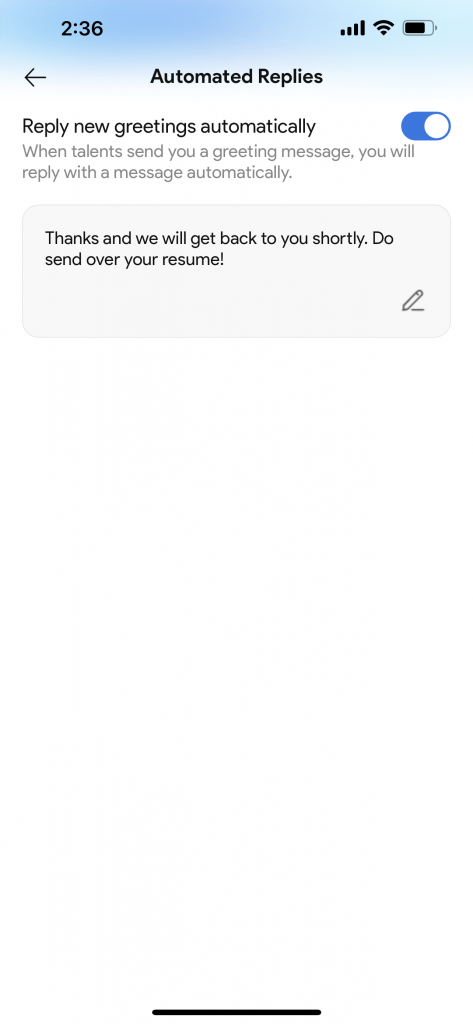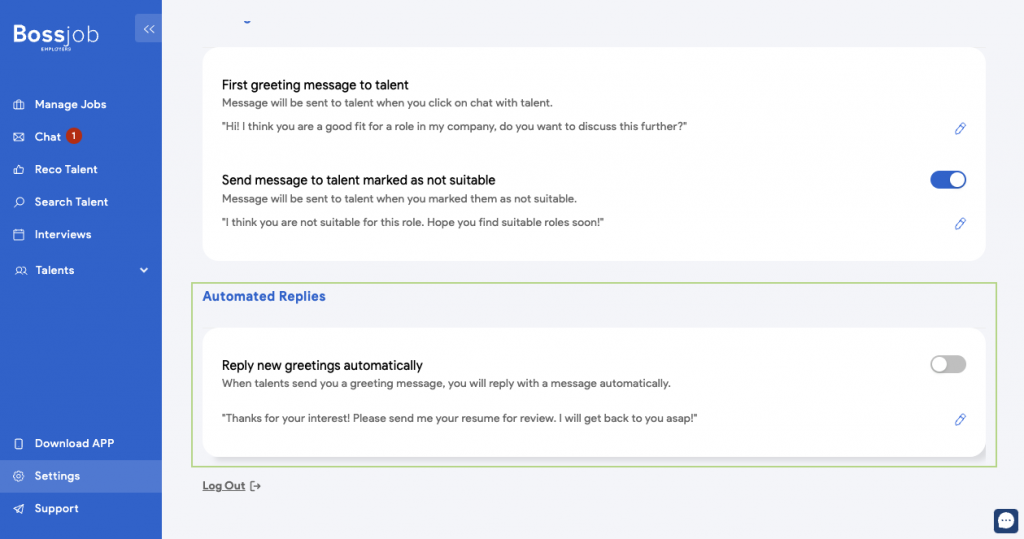 Version - 25 May 2023
Bossjob多语言版本
求职者可以用搜索中文的工作,用中文写简历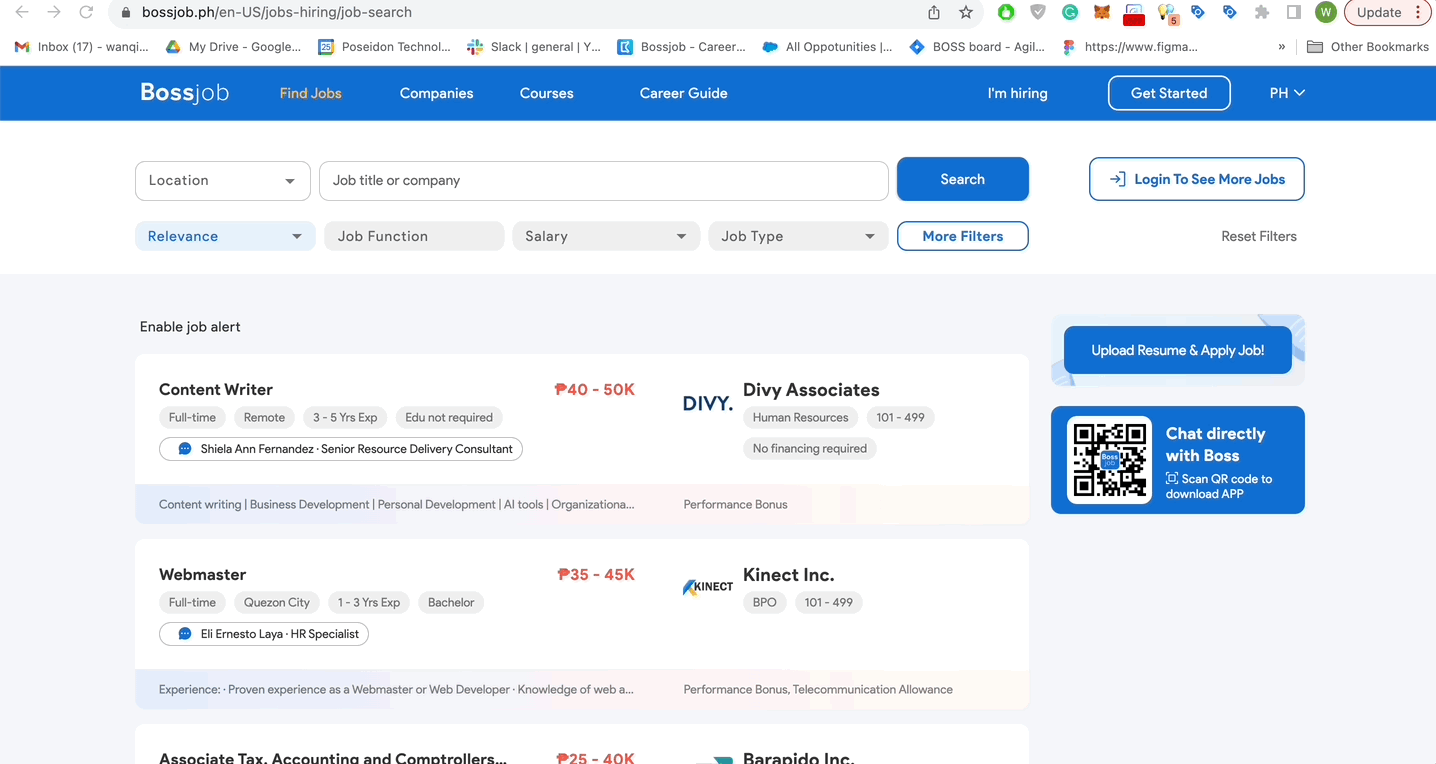 老板们可以发布中文工作,使用中文搜索人才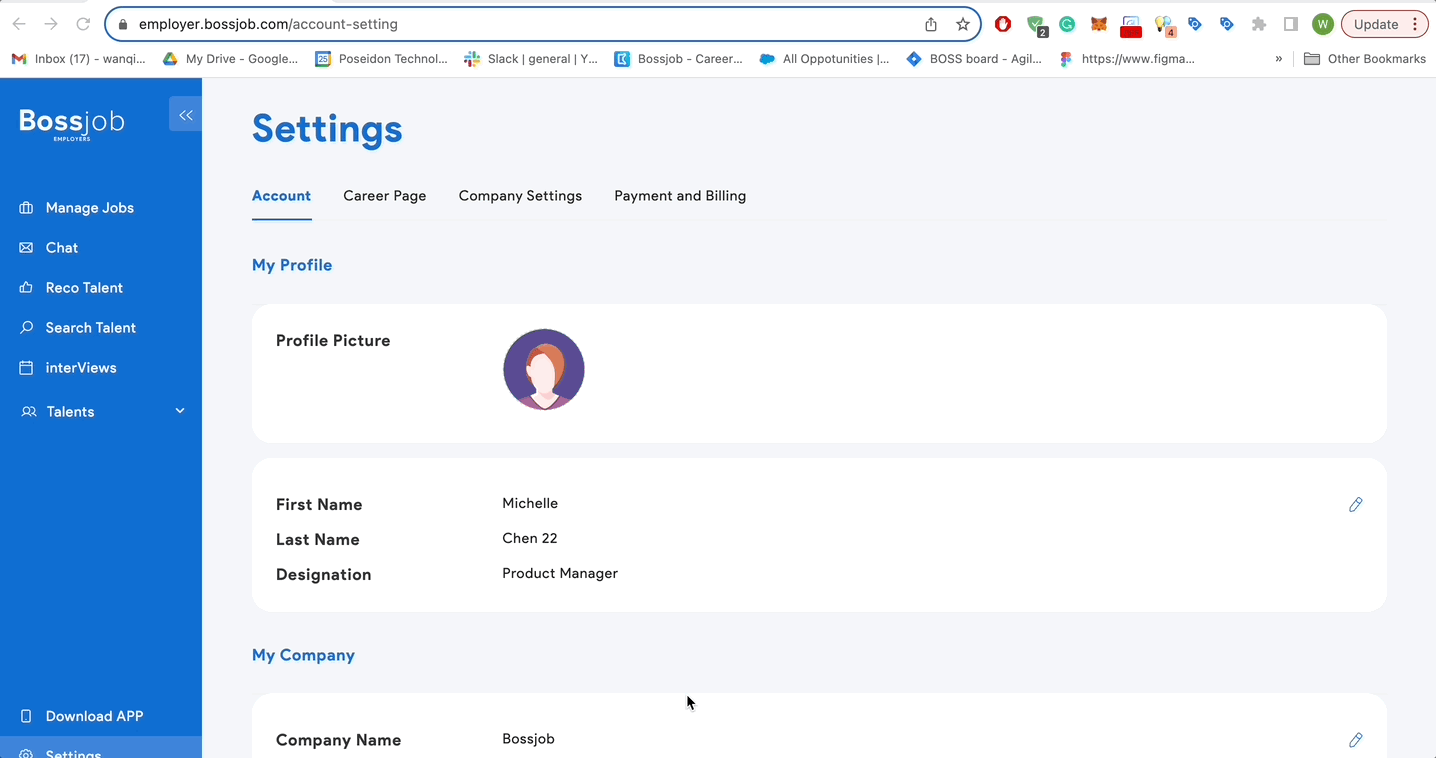 APP用户可在设置中统一更换语言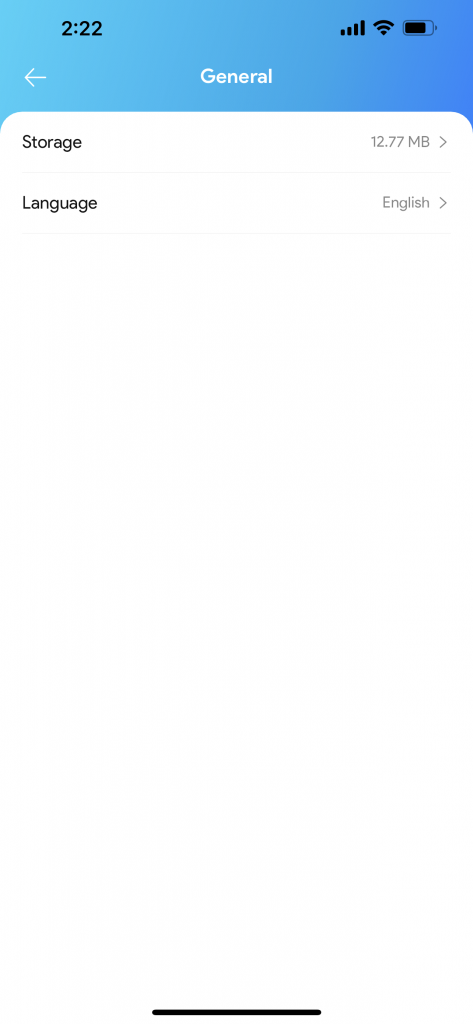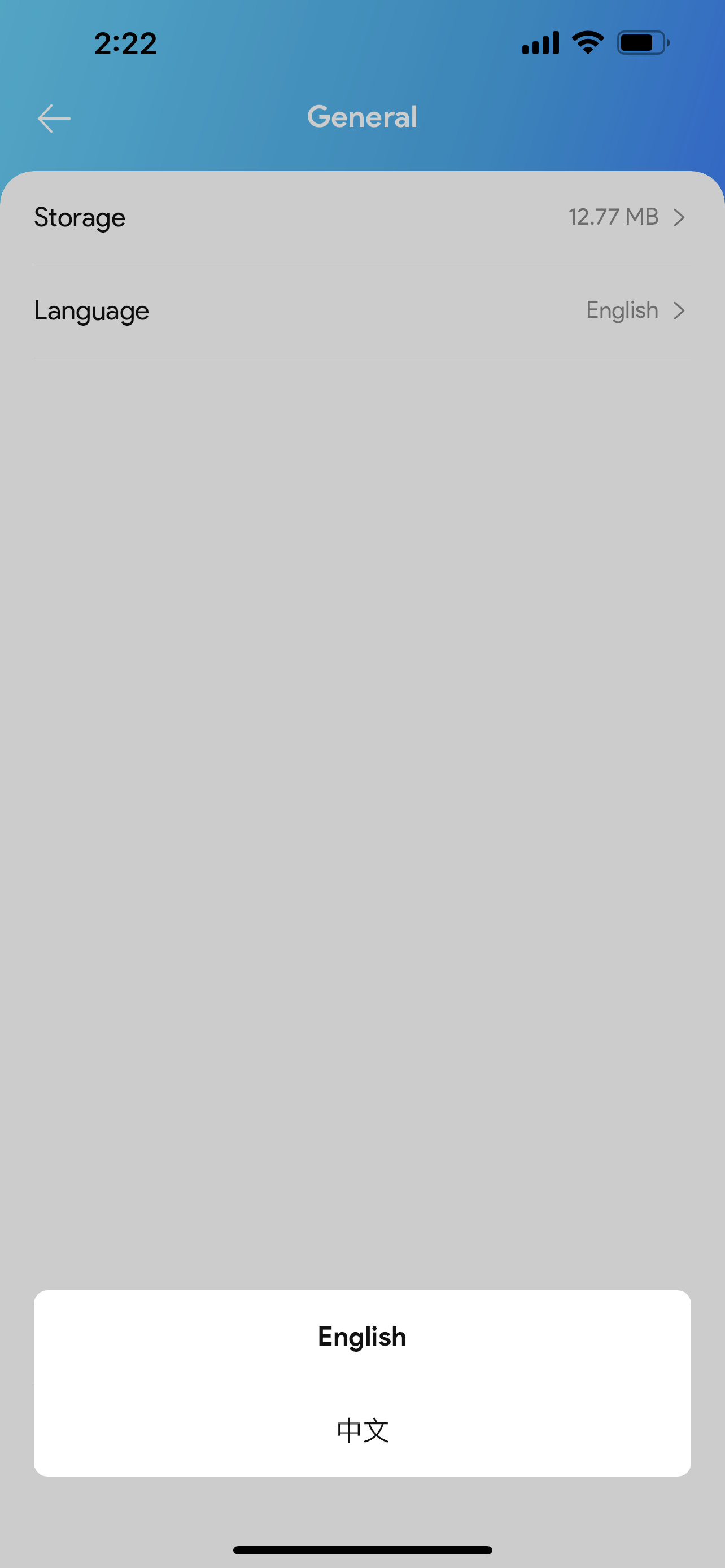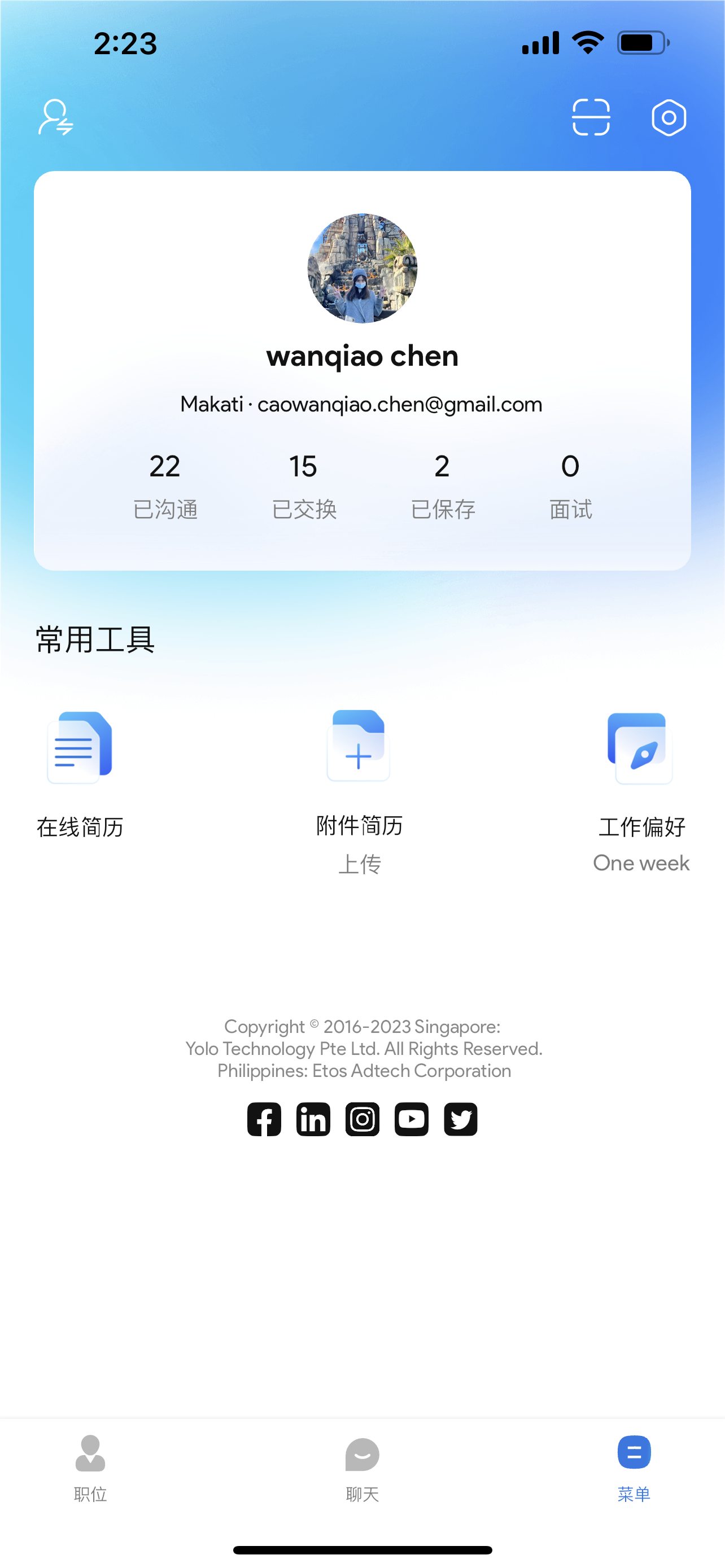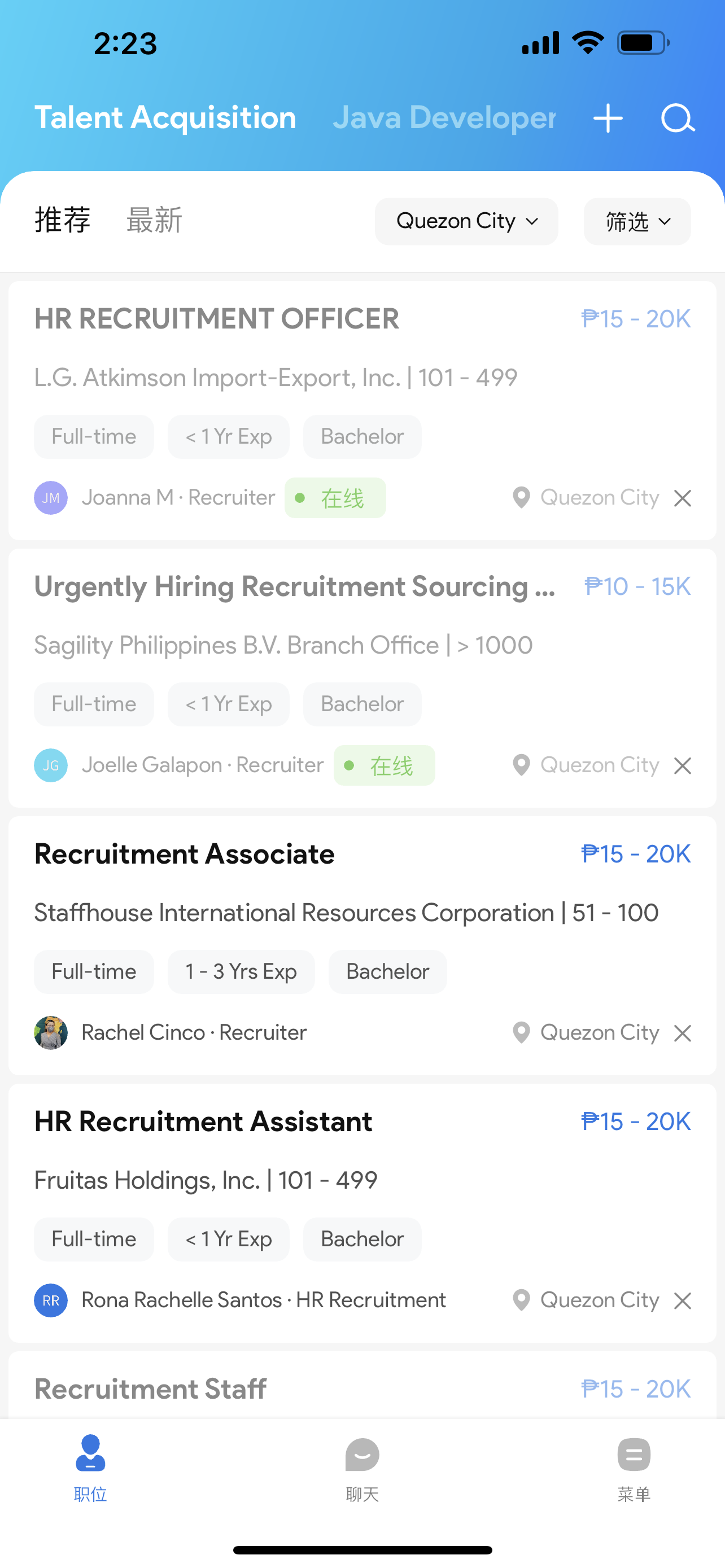 Talent: Send Resume to any E-mail
Talents can send their resume attachment to their own email or any employer's email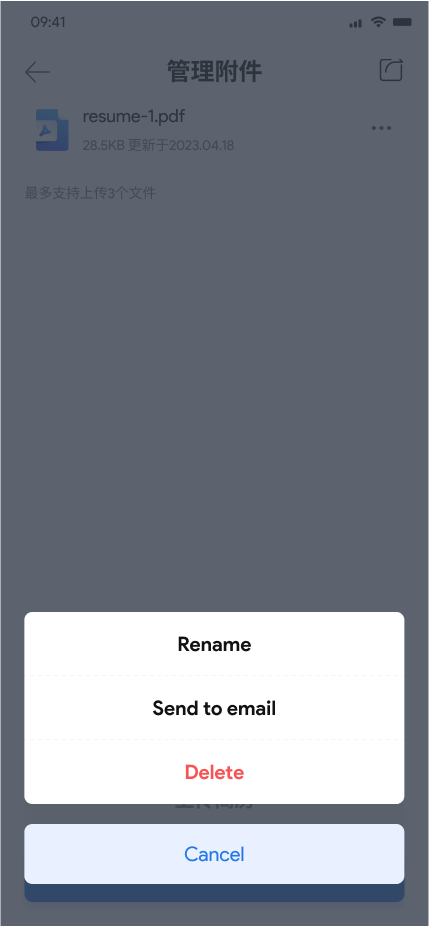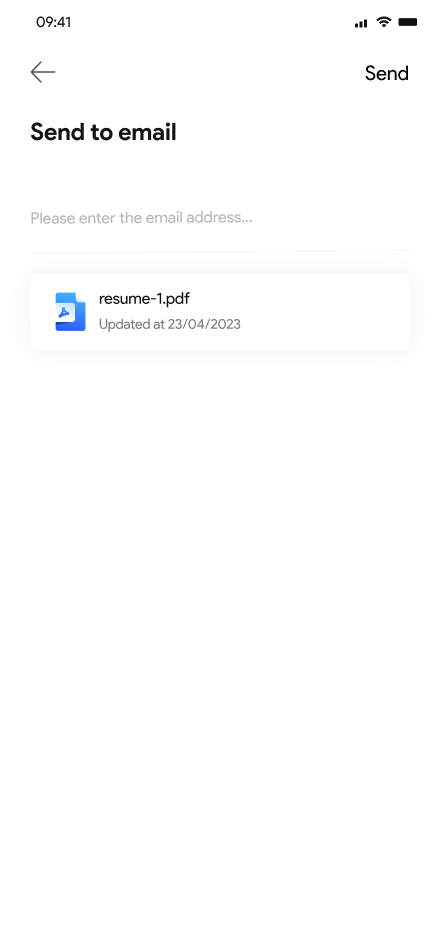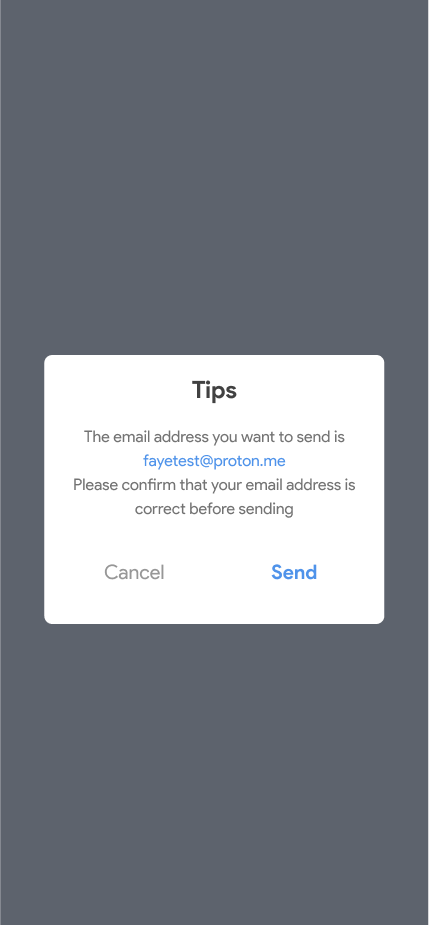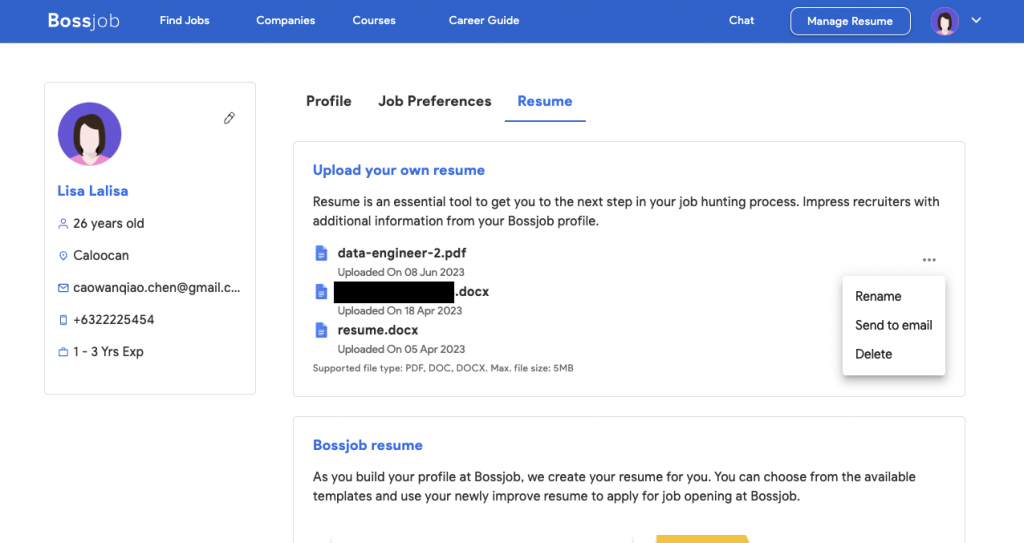 Talent: Export Resume with Bossjob Template
Talents can export their online resume using the Bossjob templates. We have 2 templates available now, stay tuned for more resume templates!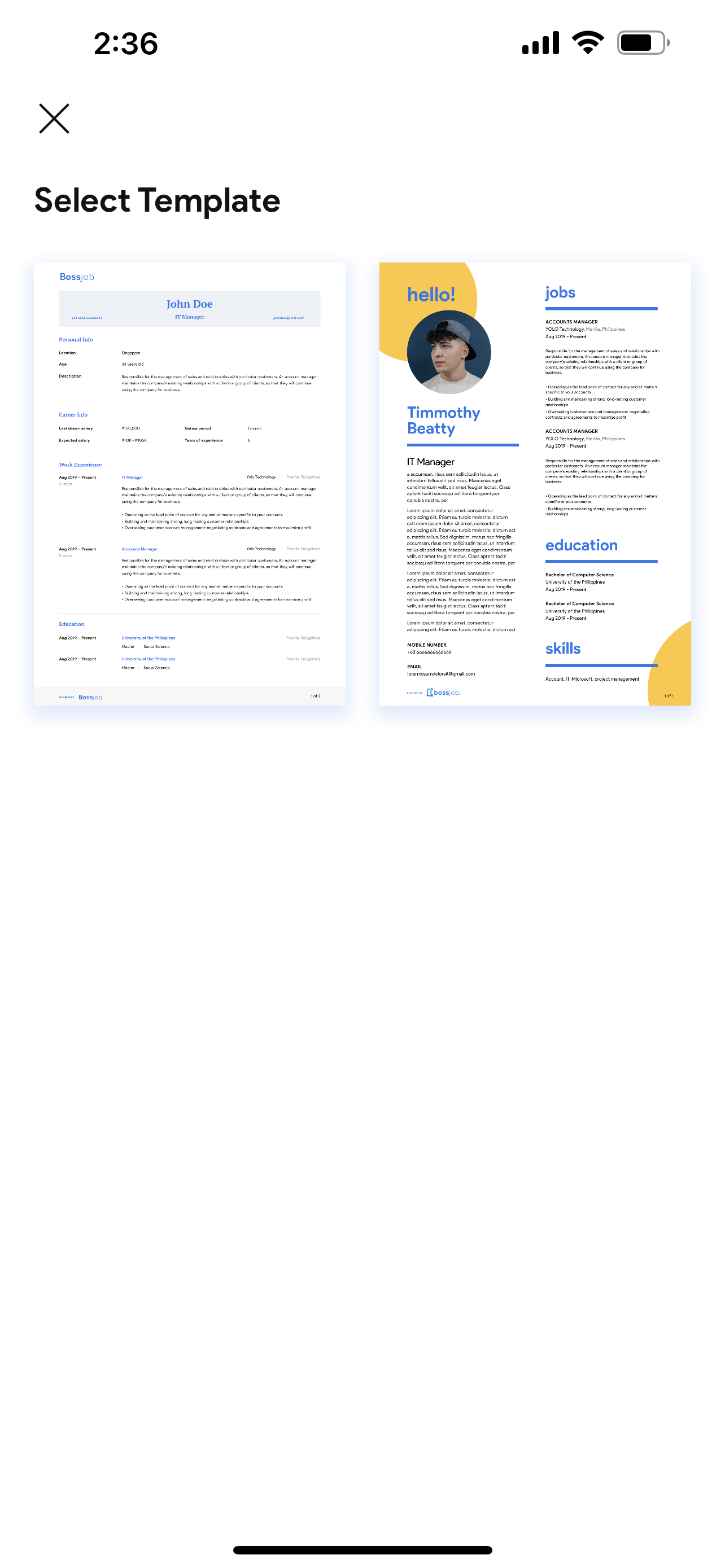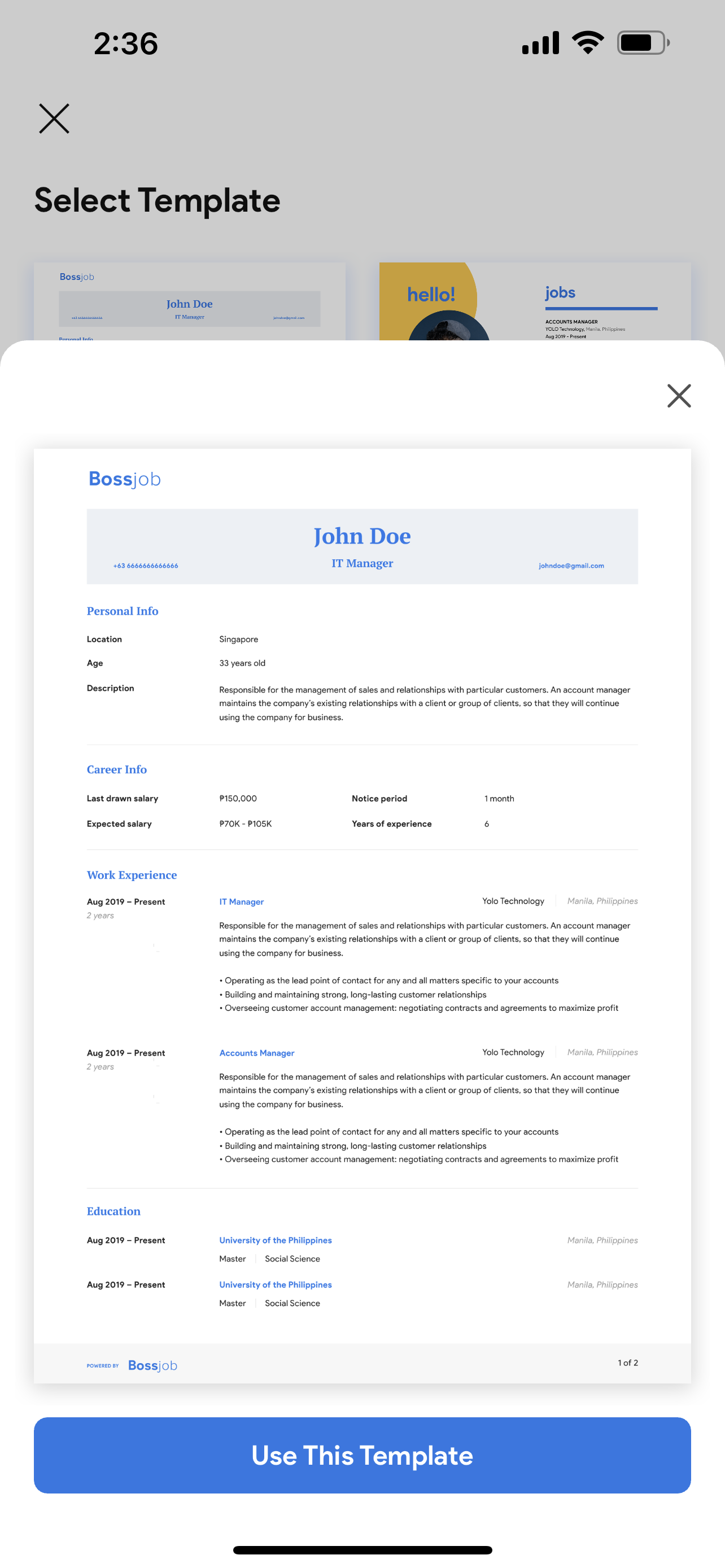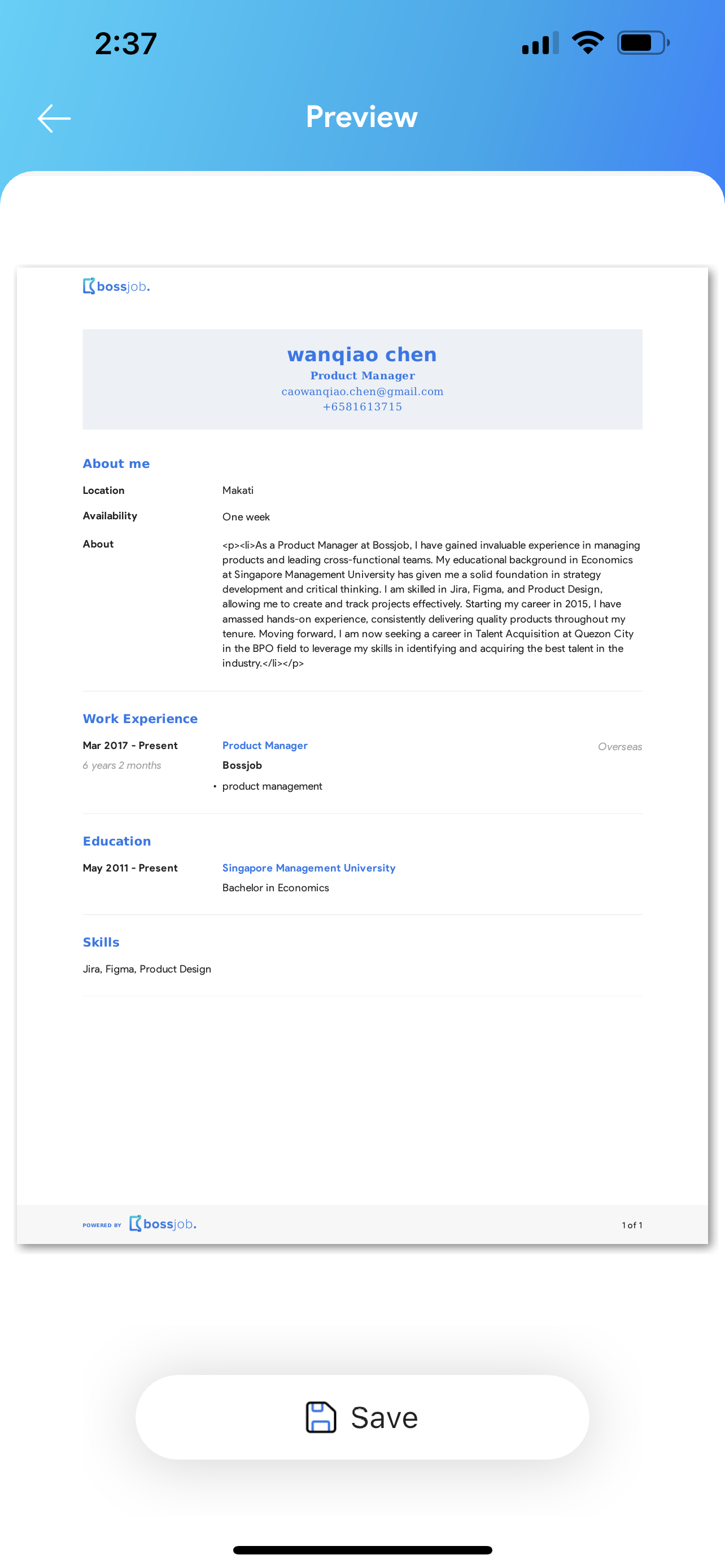 Talent: Auto-send Resume
After initiating a greeting with the hiring boss, talents can set up an auto-send feature to send their resumes automatically to the boss when they say hi back.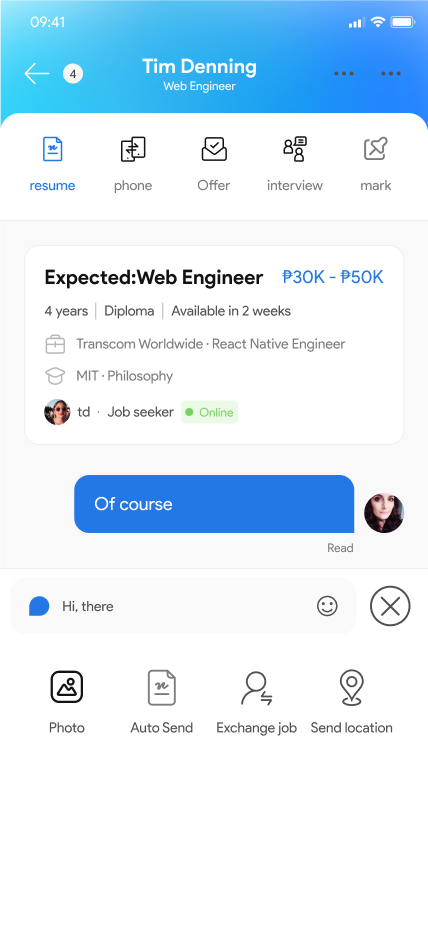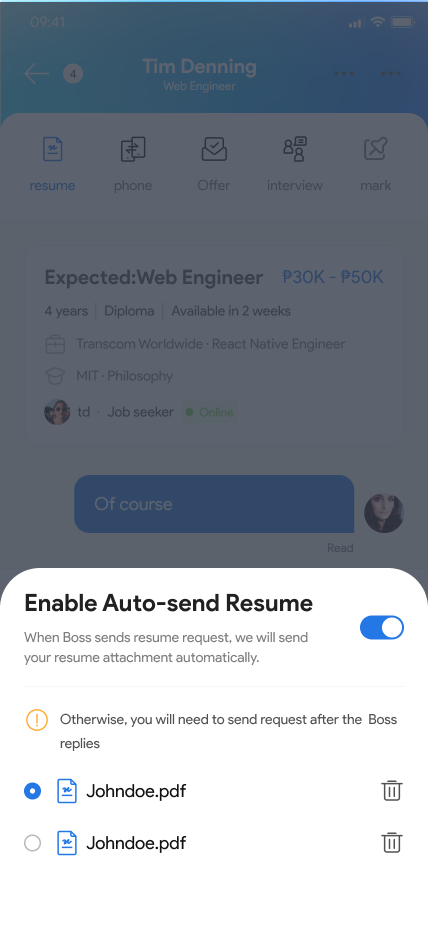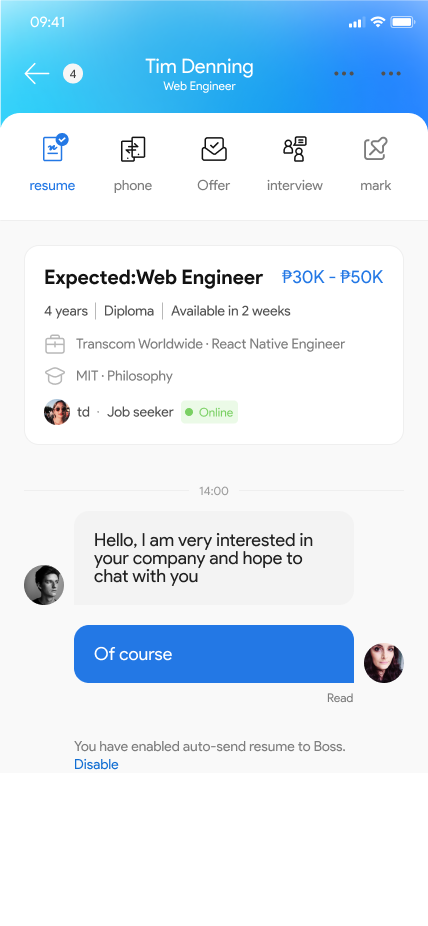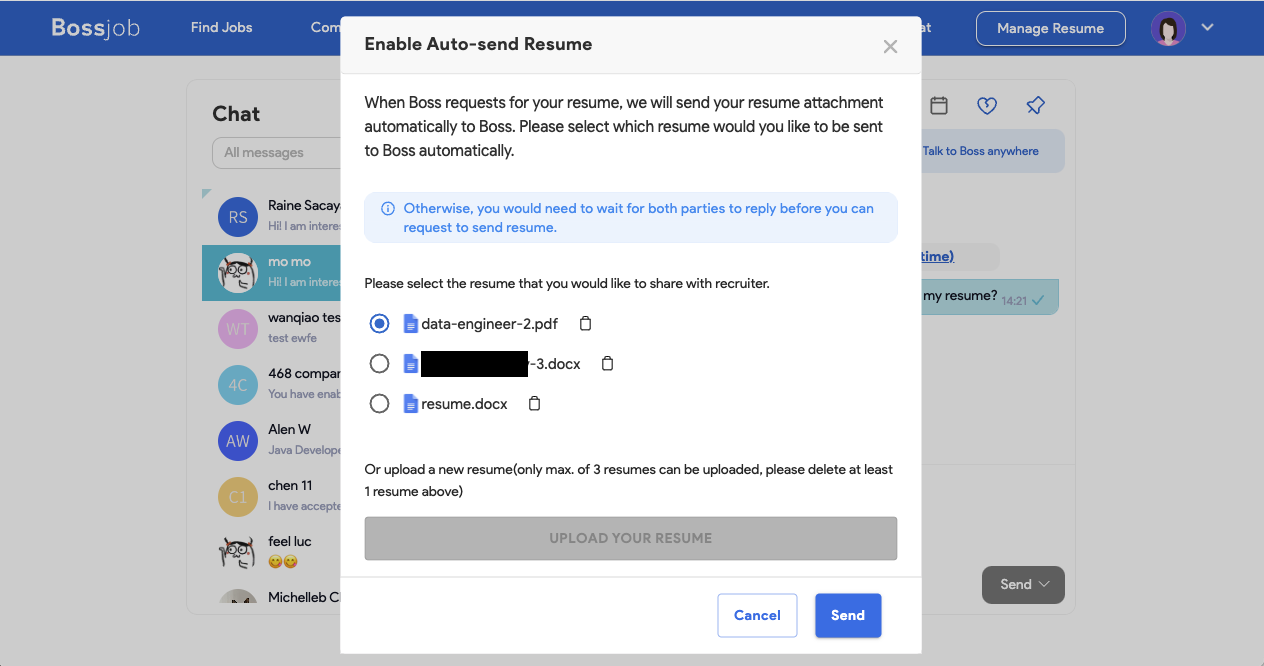 Boss: New Automated Reply
Boss can enable a customized message to send out automatically when you label talent as not suitable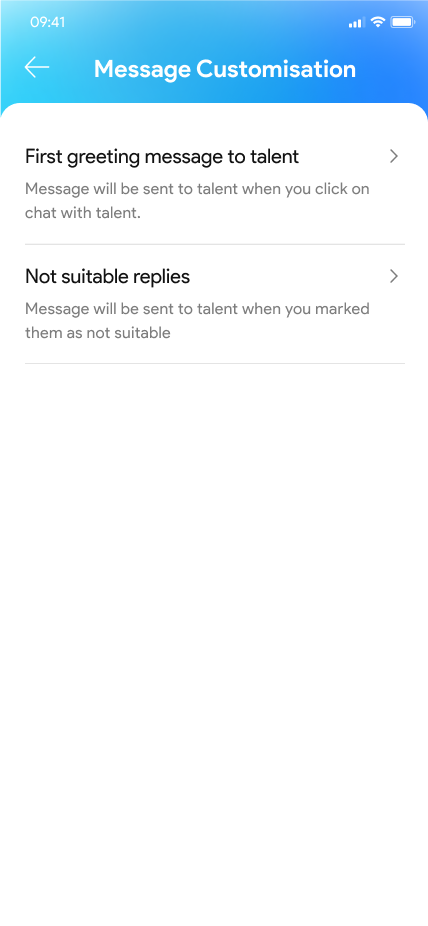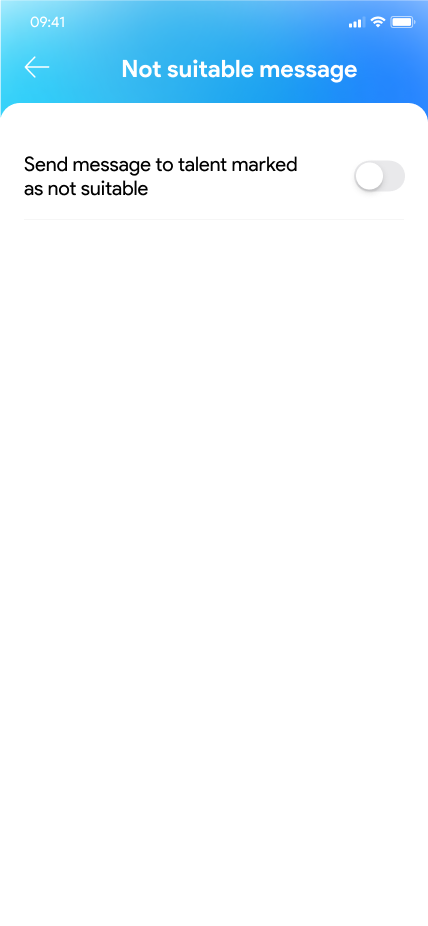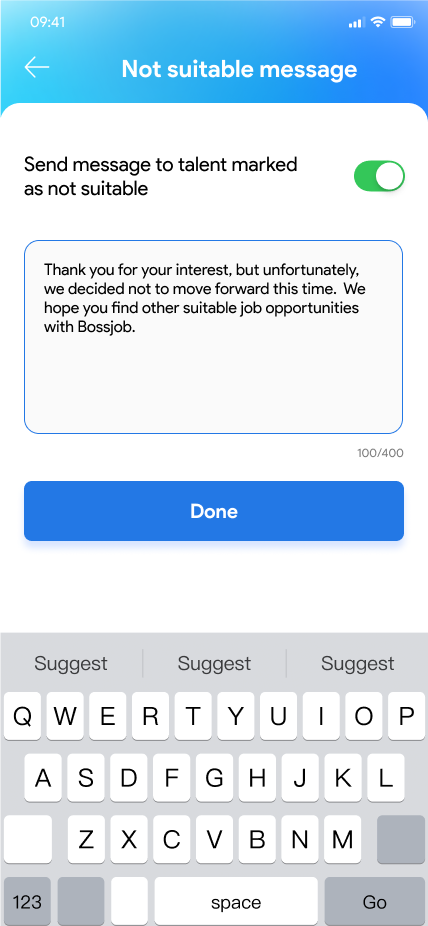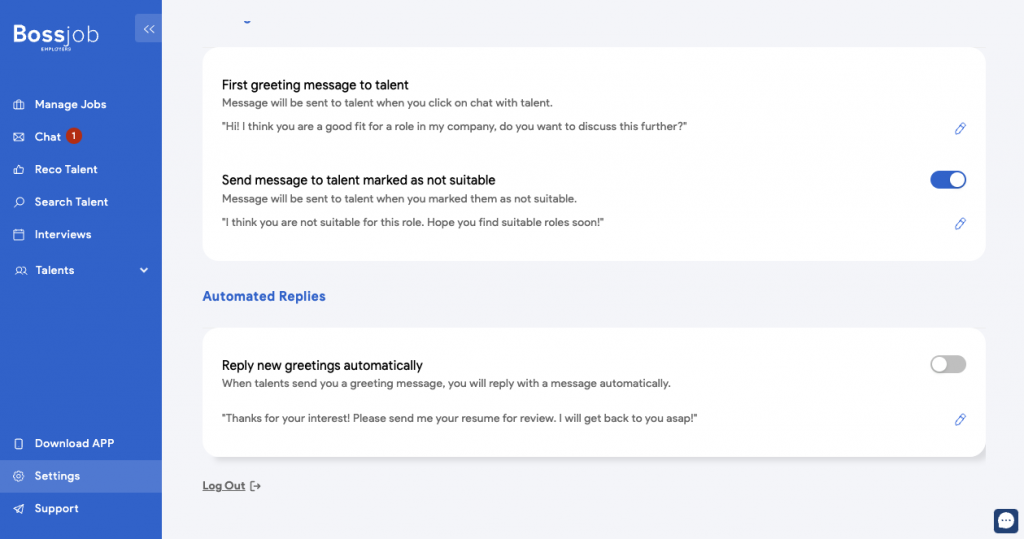 Version - 20 April 2023
Bossjob Web
Find jobs and talents in Singapore – Bossjob is available in SG
For Boss
Post a job in SG – use local cities/districts, addresses, and currency.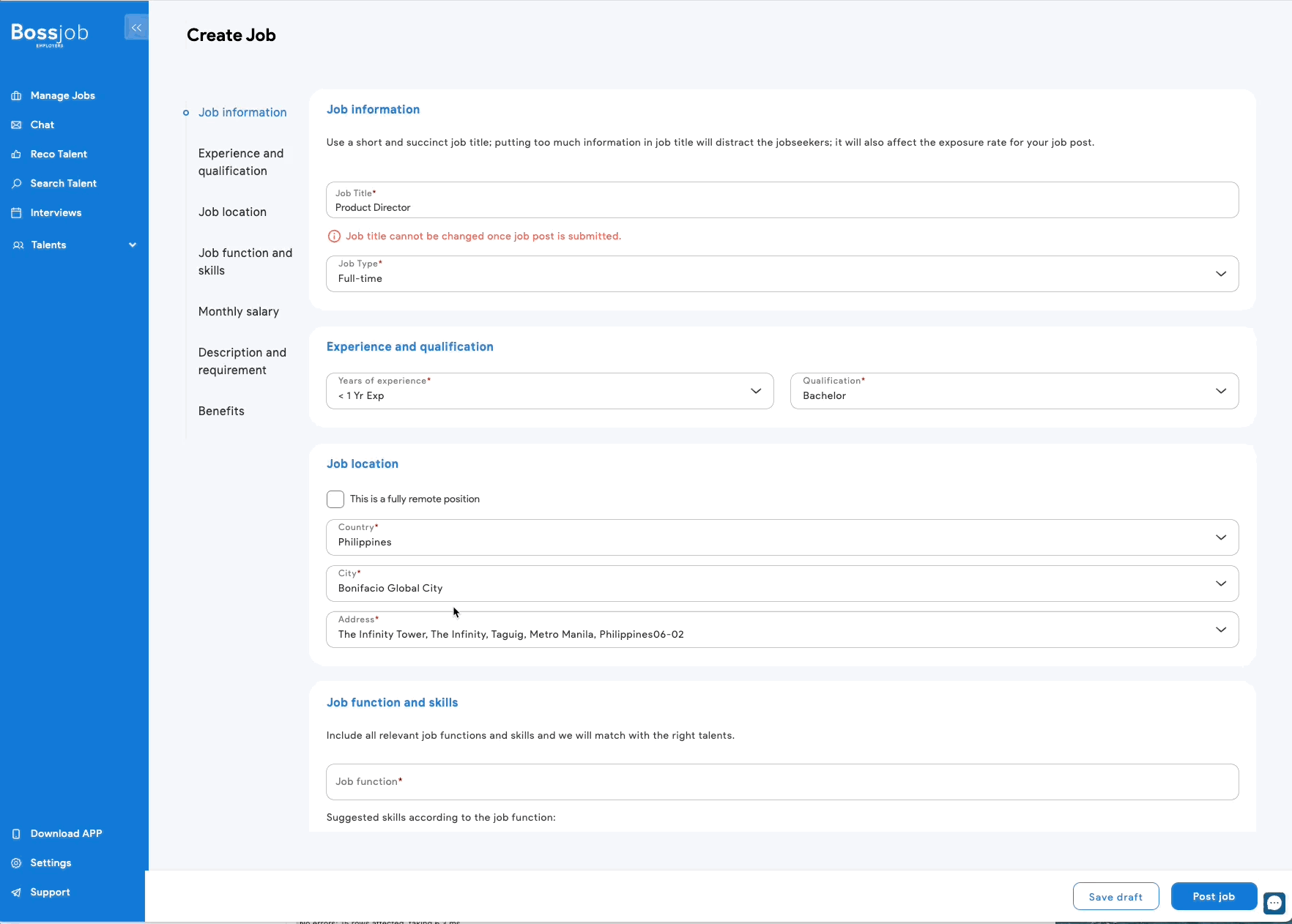 Search talents in SG – find talents who are currently located or prefer to work in SG.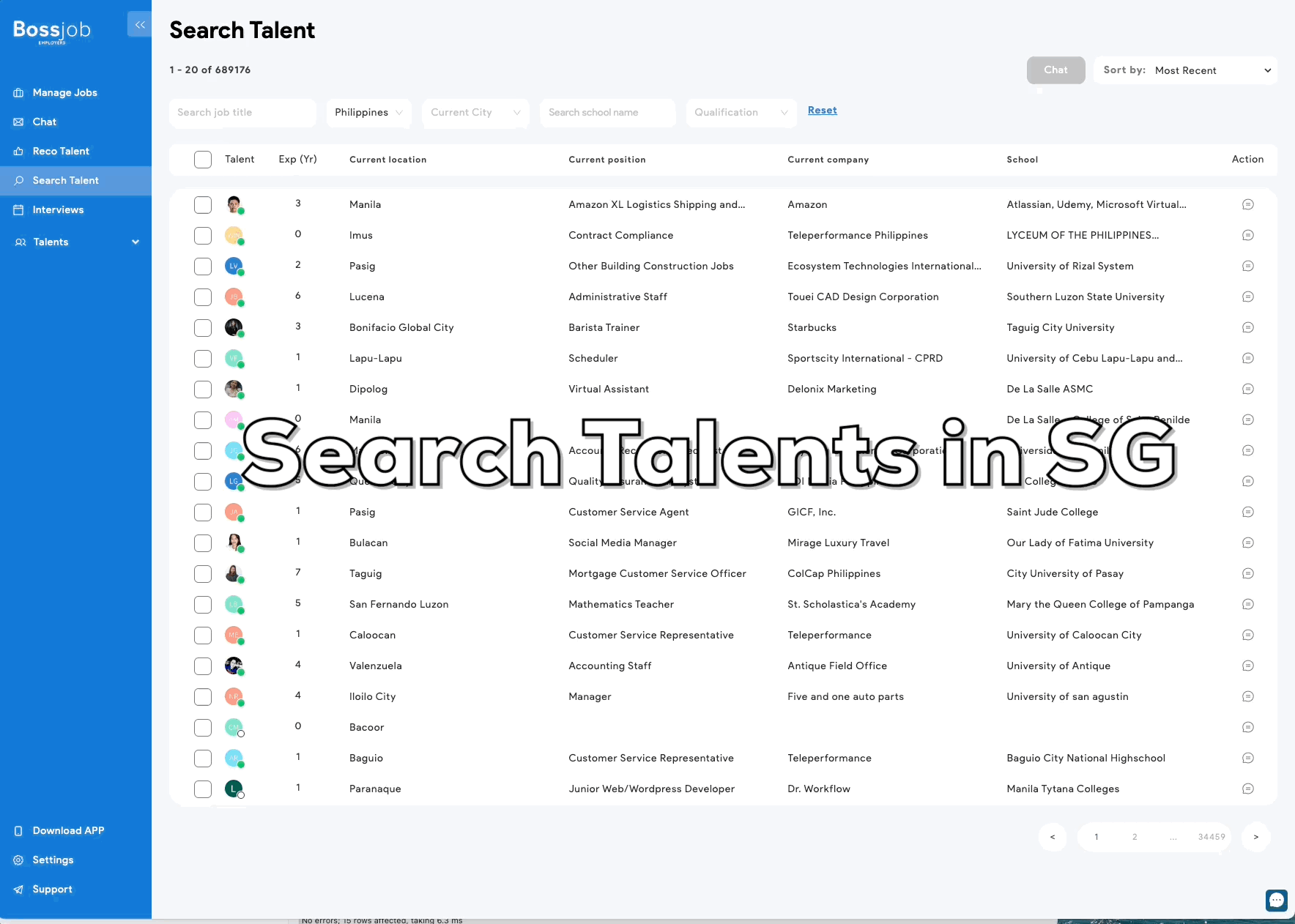 Change your preferred hiring country to SG – the default country selection will change to SG, but you can still be able to select PH when you are posting jobs or searching for talent.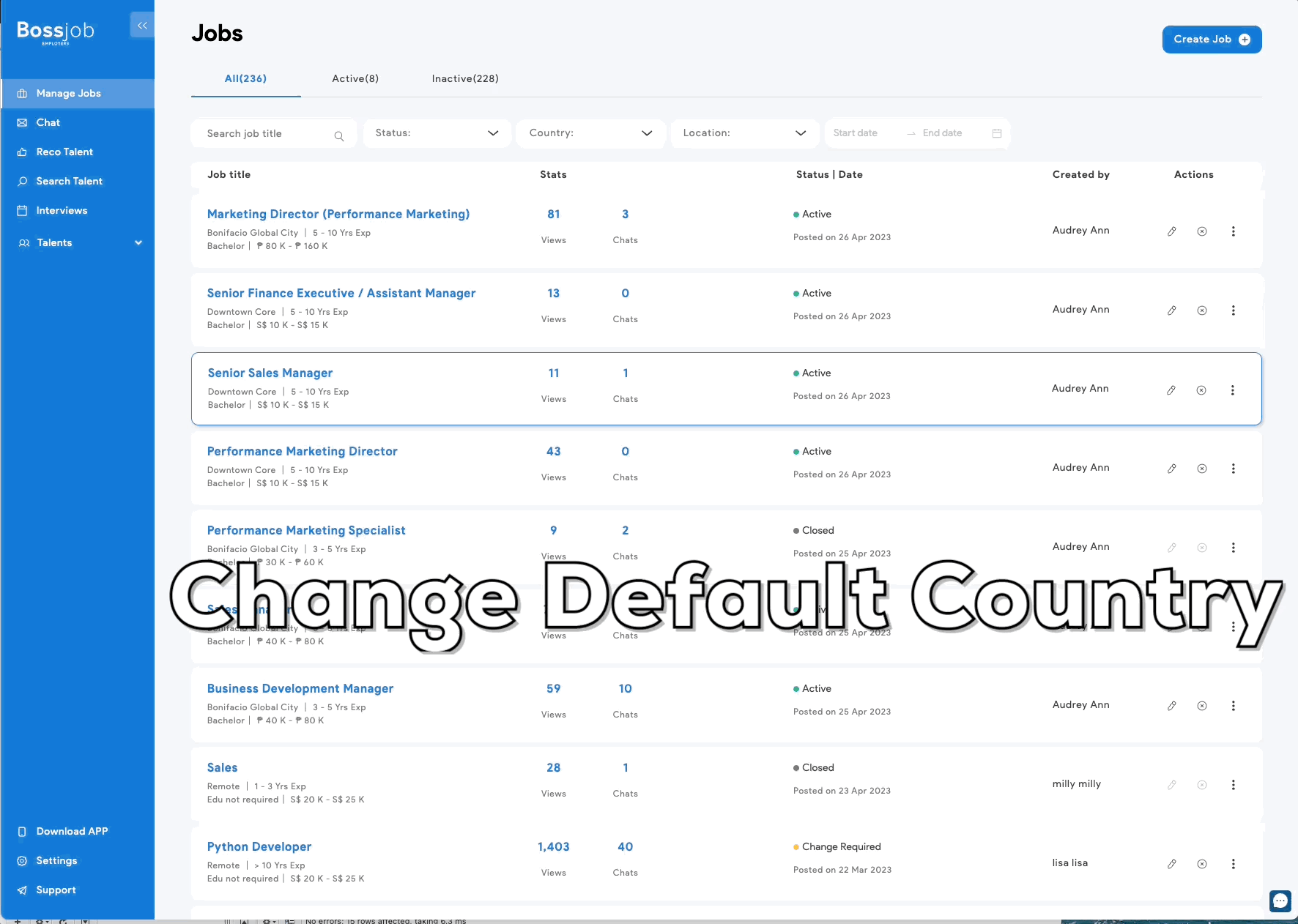 For Talents
You can now access job opportunities in Singapore. Visit https://bossjob.sg/ to find out more!
Send & receive job offers
Employers can send job offers to talents directly through our chat feature.
---
Bossjob APP
Boss/Talent: Send & Receive Job Offers
Boss can send job offers to talents via Bossjob chat now.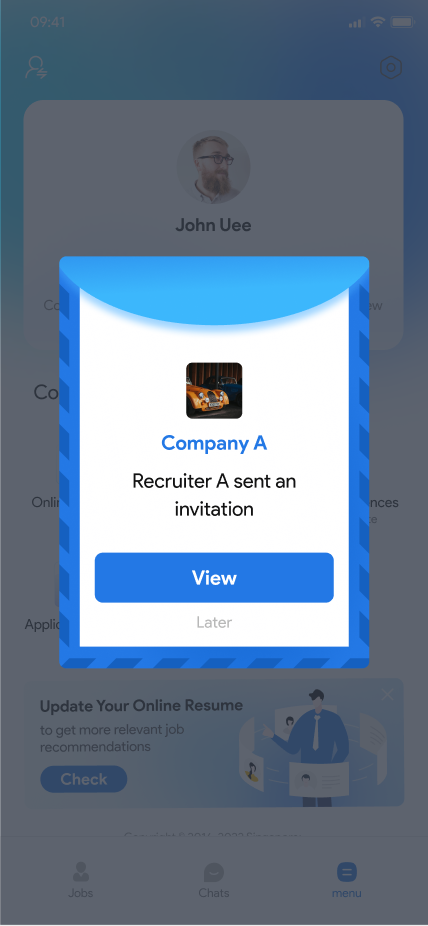 Boss: Google Meet Integration for Interview
Boss can now add a Google Meet link to the online interview invite
Employers can share resumes with others in your hiring team, allowing for greater collaboration
Other Bug fixes and performance improvements to enhance the overall user experience.
---
Version - 13 April 2023
Bossjob Web
Boss: AI Job Description Generator
Crafting the perfect job description can be time-consuming and tedious. That's why we've developed a job description generator that will do the work for you. With just a few clicks, you can input all the necessary information, such as job title, experience and education requirements, job function, and skills, and our software will generate a comprehensive job description in seconds. This feature will save you time and effort, allowing you to focus on other aspects of your recruitment process.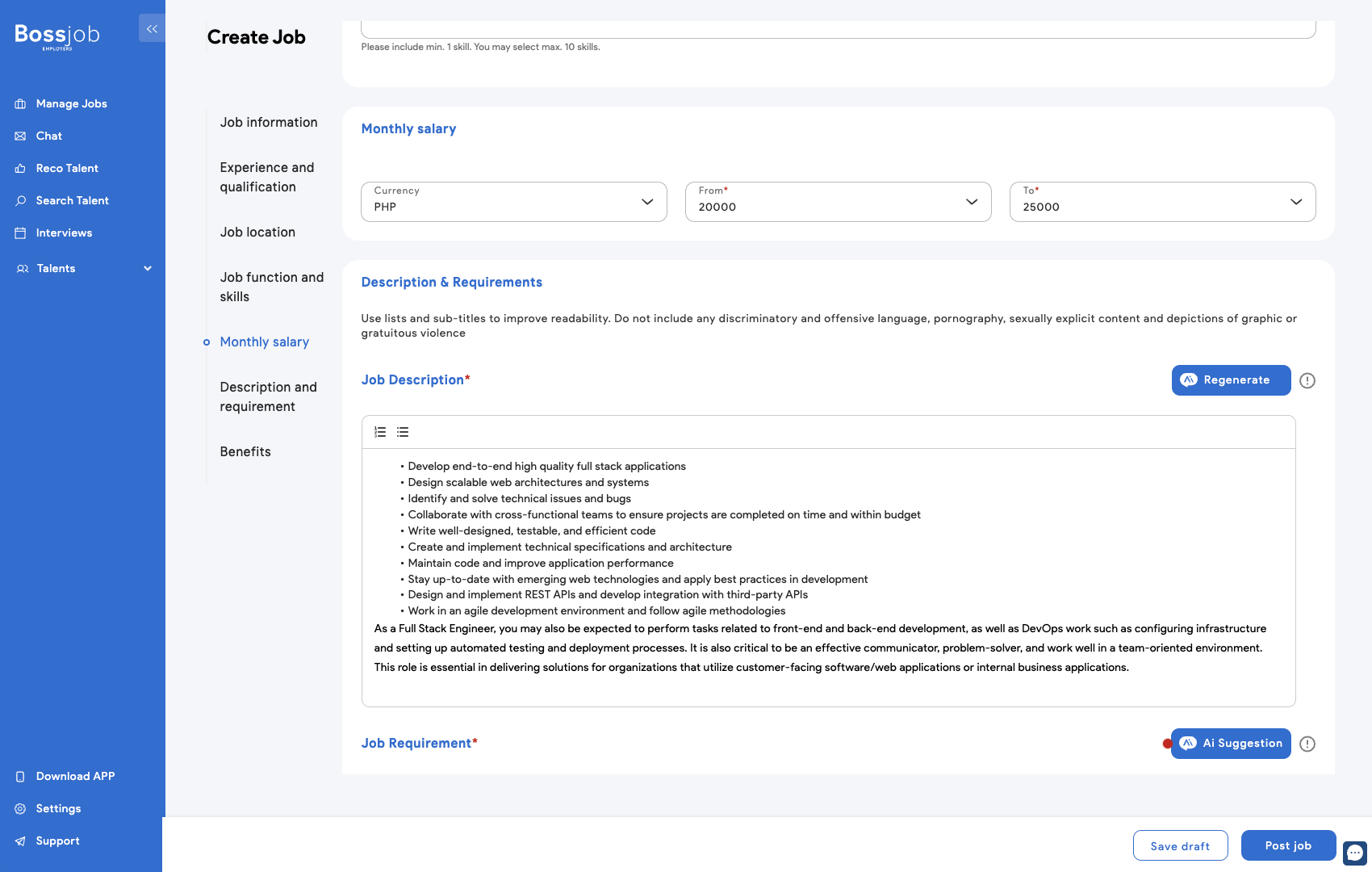 Boss: Google Calendar Integration for Interview
Scheduling interviews can be a hassle, especially when dealing with multiple candidates and team members. But with our Google Calendar integration, interview scheduling becomes a breeze. Once a talent accepts your interview invitation, you can easily add the interview to your Google calendar. The interview details will be automatically added to the calendar invites, making it easier for you and your colleagues to keep track of interview schedules. With this feature, you can streamline your interview process and avoid scheduling conflicts.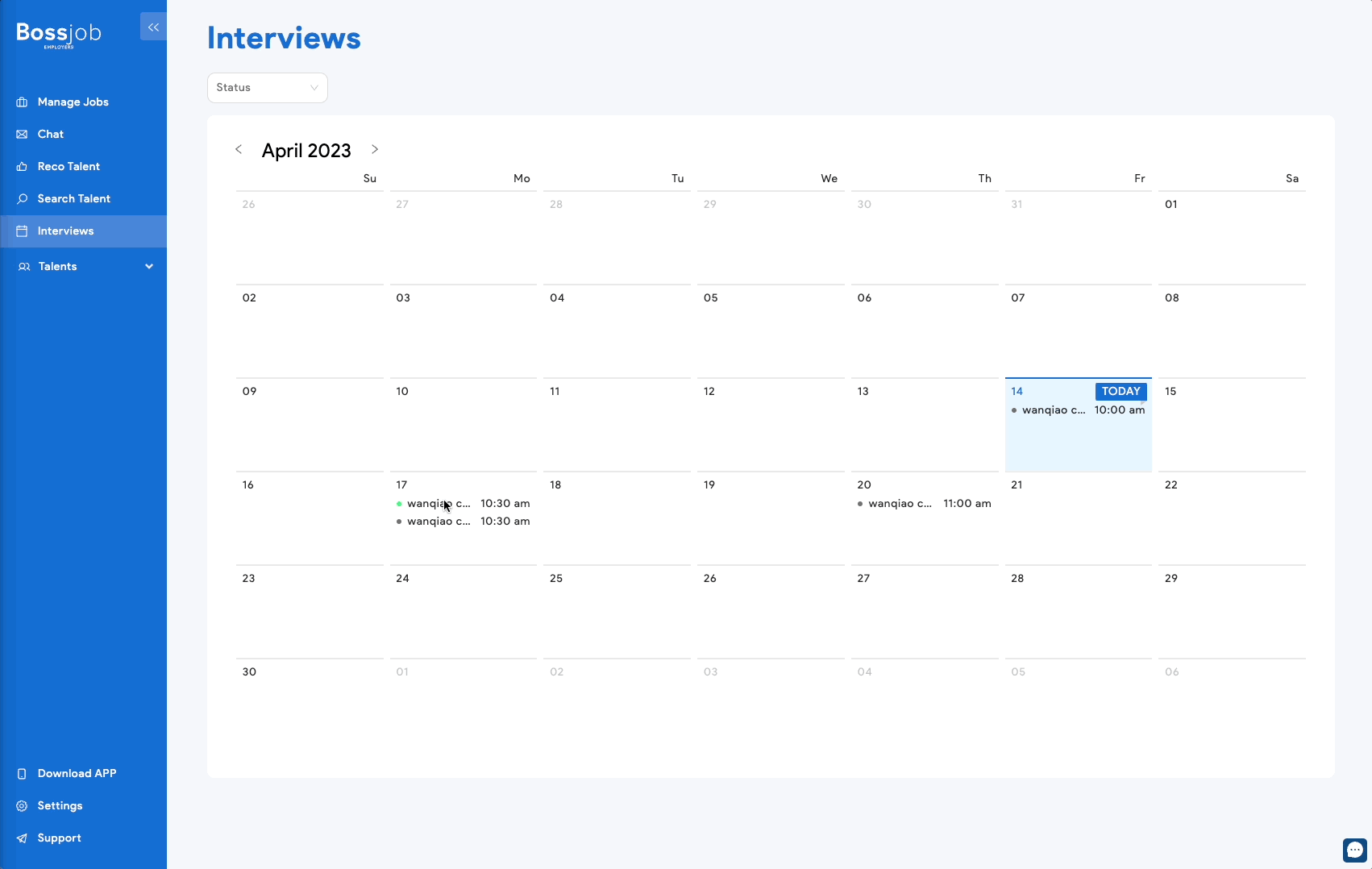 Boss: Job Card & Poster Sharing
Attracting the right candidates to your job postings can be a challenge. That's why we've developed a social media job-sharing feature that will help you expand your candidate pool. We provide creative posters that you can easily share on social media platforms, complete with all the necessary job information and a QR code that leads directly to the job post. By leveraging your network and increasing exposure for your job postings, you can attract more qualified candidates to your recruitment pipeline.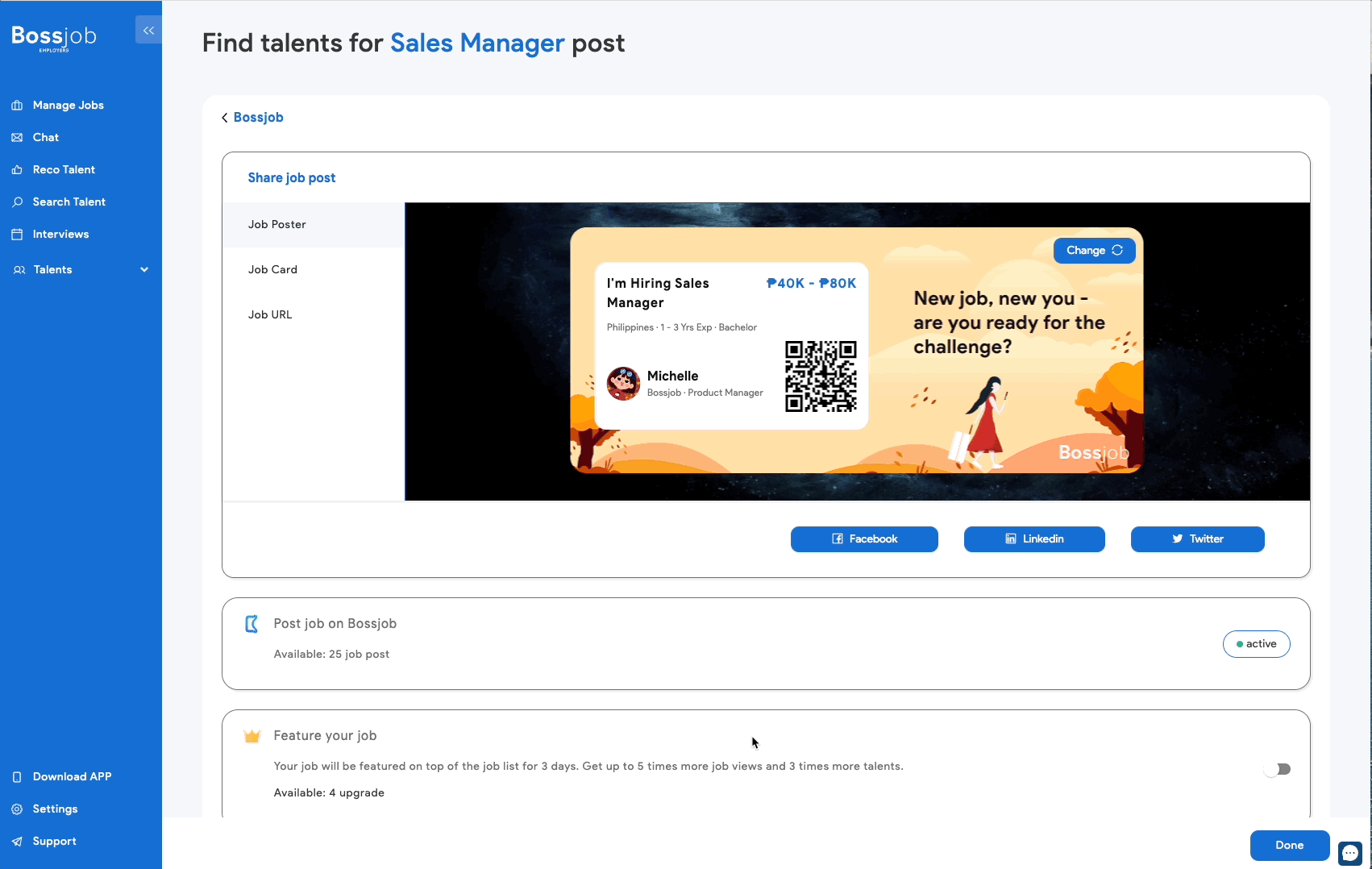 Boss: Live Customer Chat Support for New Employers
You can now get instant assistance from our support team during the sign-up process. Our team will be available to answer any questions you have and help you get started
---
Version - 6 April 2023
Bossjob Web
Talent: My Jobs – Recommended Jobs
Once you create your job preference, you'll get instant access to a list of recommended jobs that suit your skills and interests. Plus, you can easily switch between job preferences and use filters to narrow down your search.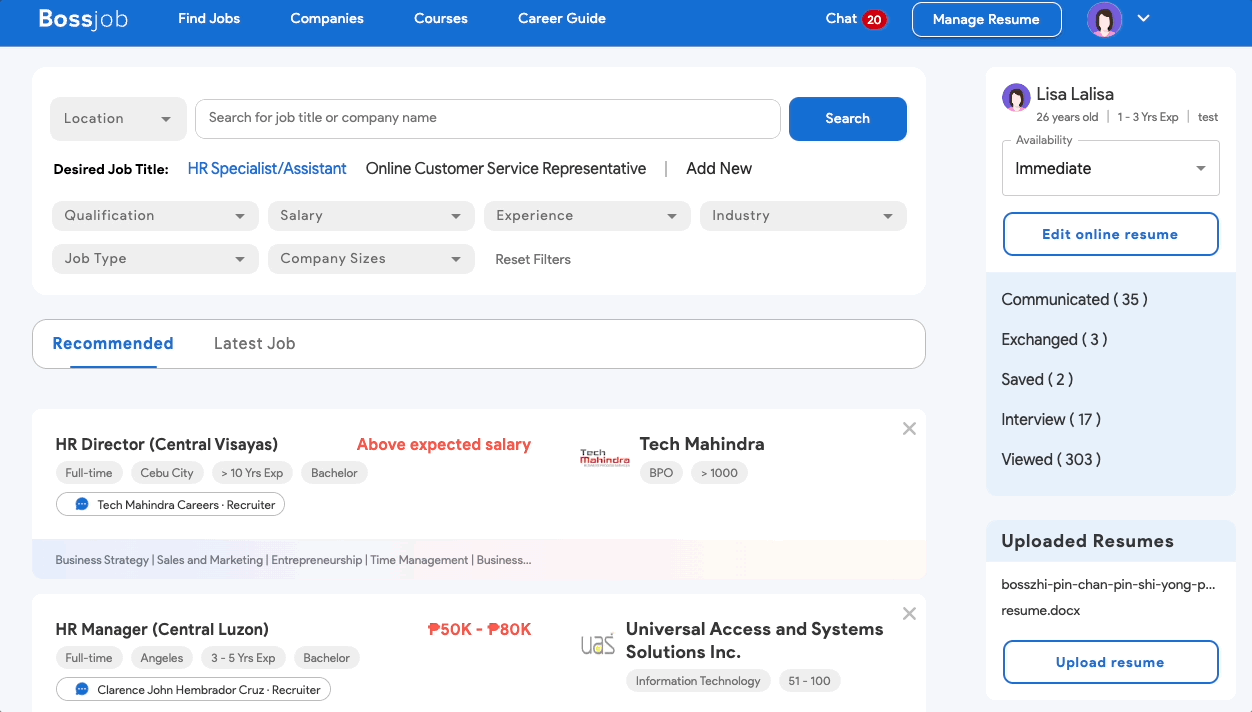 Talent: My Jobs – Viewed, Saved, and Communicated Jobs
You can keep track of all your job search activities in one place. You can easily view and manage jobs you've viewed, saved, and communicated with. Plus, all historical data is stored for you to access whenever you need it.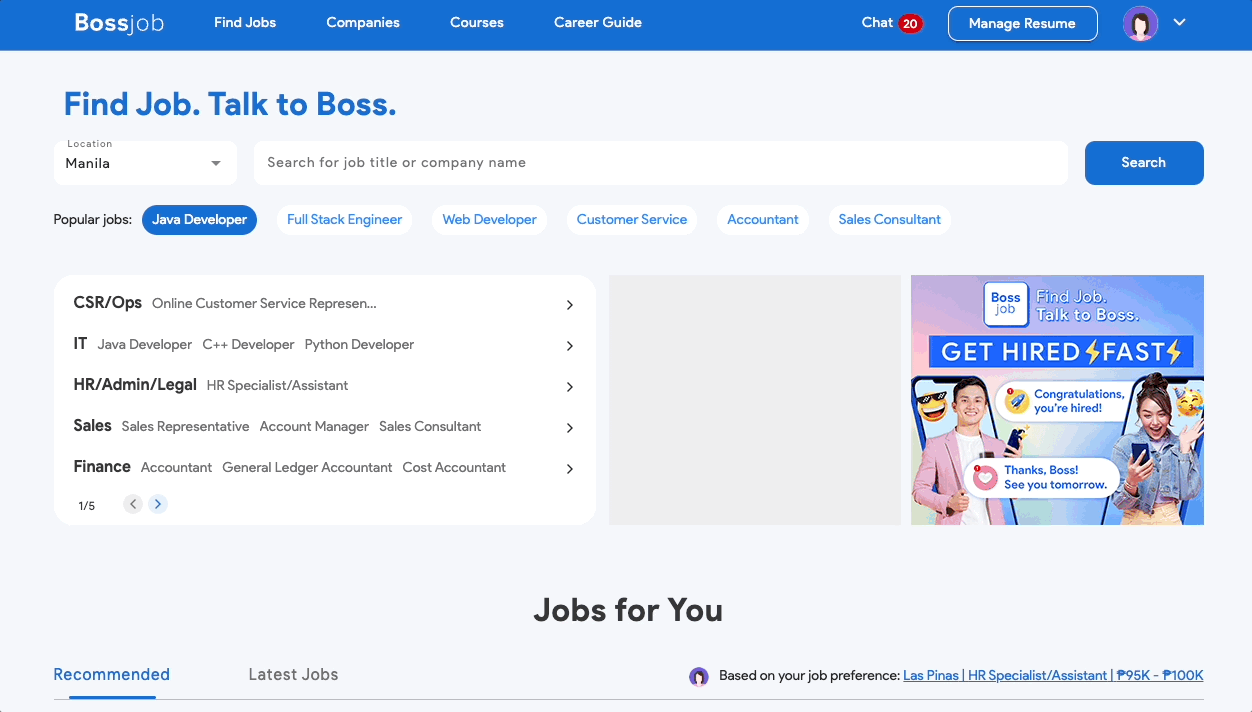 Talent: My Jobs – Discover Who Viewed You
Discover who's interested in you and take the initiative to start a conversation with employers who've viewed your profile. Our feature helps you connect with potential employers, making your job search easier and more efficient.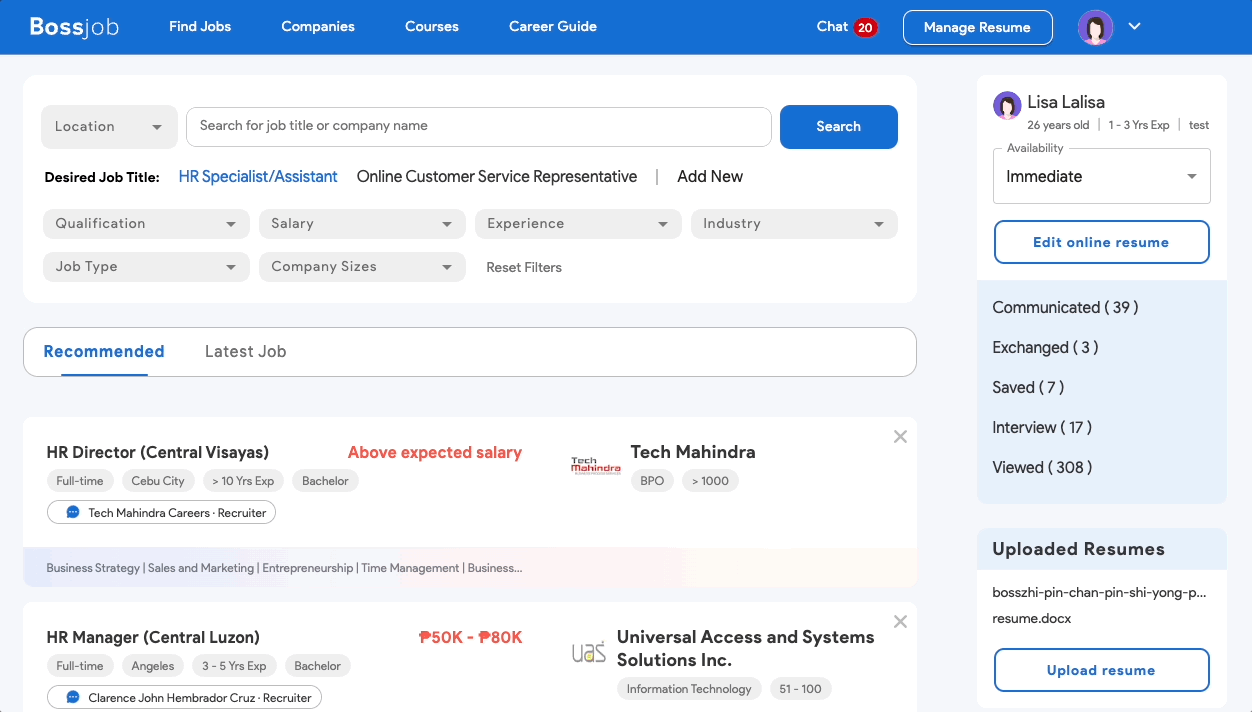 Talent: My Jobs – Interviews
View your upcoming and past interviews in one place, making it easier for you to prepare and keep track of your interview schedules and history.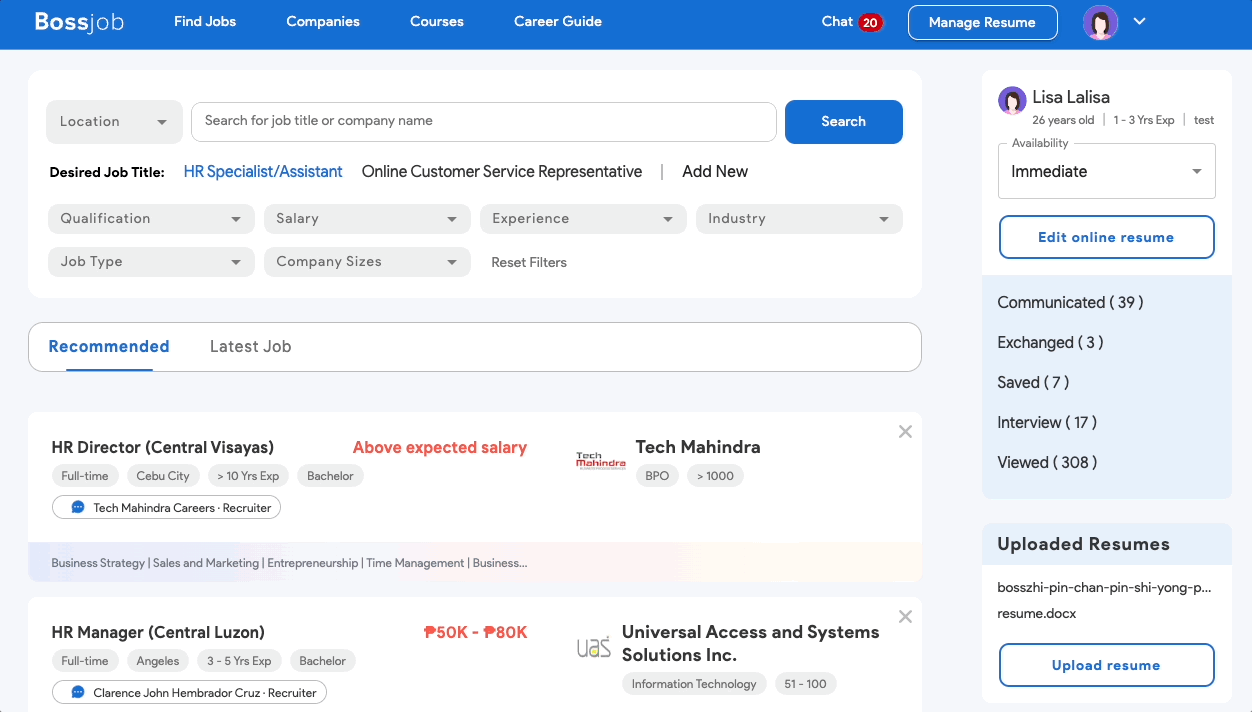 Boss: A Smoother Onboarding Experience for New Companies
For new companies that want to embark on this new journey with us, we now offer a smoother onboarding process to help you get started quickly and easily.
Bossjob App
Talent: ChatGPT Assistant – Online Resume Creation
AI automatically parses your uploaded resume and creates a professional online resume in seconds.
Talent: Save Companies
The New "Save company" feature allows you to save companies of interest and view them later.
Talent: Block Companies from Viewing Your Resume
You can now block a company from viewing your resume if you don't want your current employer to know you're job hunting.
Bug fixes and performance improvements to enhance the overall user experience.
---
Version - 28 March 2023
Bossjob Web:
Talent: Improved Job Search Experience
New job search experience for talents, including the ability to identify online hiring bosses, preview job descriptions when hover, view related job search keywords, and view more company information at one glance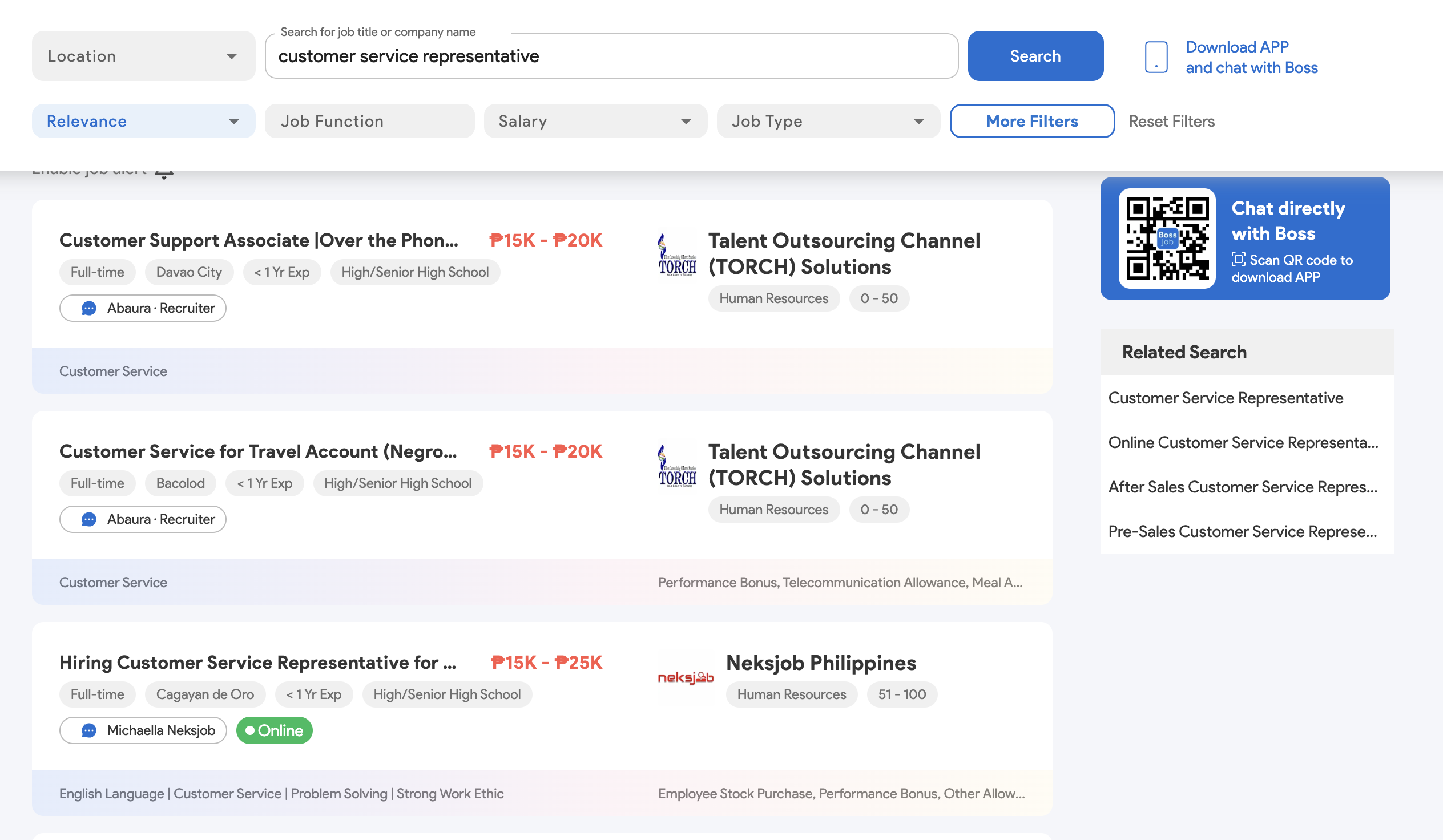 Talent: Improved UI for Job Detail
Revamped job detail viewing experience for talents, including clearer boss information such as response rates and active status, map view for job locations, and easy identification of required job skills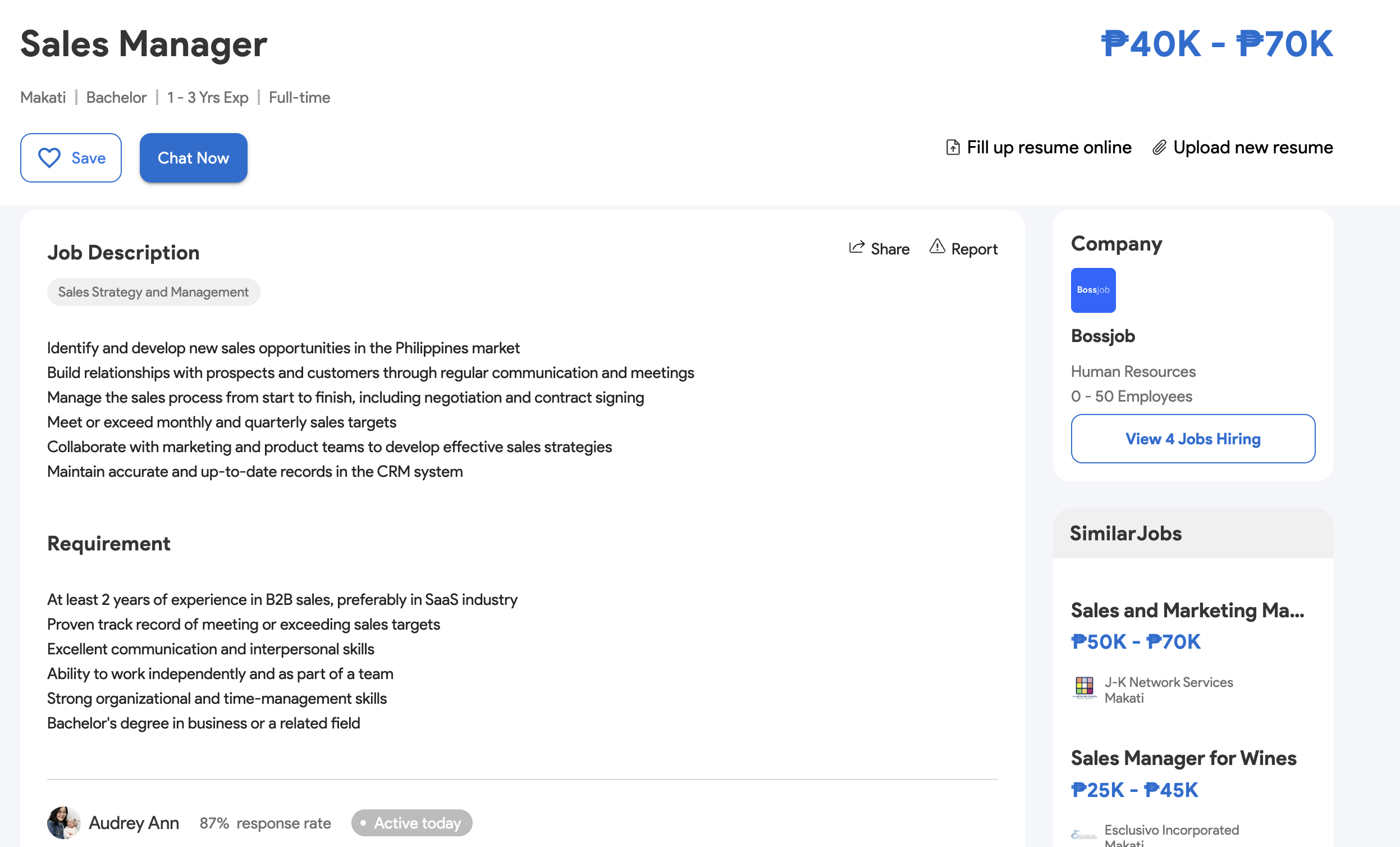 Boss: Detailed Information for Export Job/Application Function
More information was added to job and applicants data export for bosses, including differentiation by source and split into initiated by boss/talent categories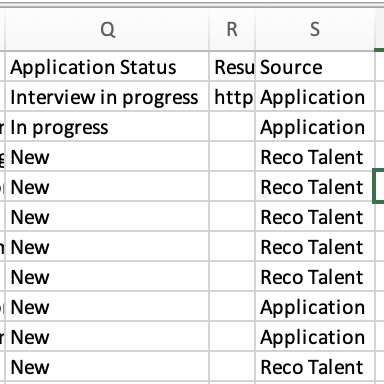 Enhanced company creation and joining experience for bosses, including verification requirements for foreign companies
Minor bug fixes to improve overall functionality
Bossjob App:
Improved chat feature with enhanced performance and wider carrier compatibility
Ability to add interview schedule to phone's calendar and receive notifications for upcoming interviews
Simple step-by-step process to create an online resume during registration
Previously viewed job listings will now appear in grey, making them easier to differentiate from new listings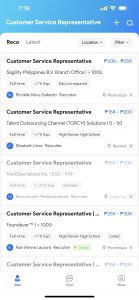 More polished and user-friendly UIUX thanks to recent improvements.